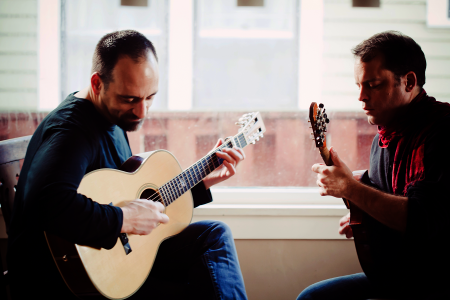 Tim Connell Duo with Eric Skye
Tim Connell Duo with Eric Skye
Saturday, September 14 | 7:00 pm
Admission $20
Hoffman Center for the Arts | 594 Laneda Avenue
Acoustic Masters of Mandolin and Guitar
Tim Connell and Eric Skye, masters of the mandolin and guitar, will share the Hoffman Center stage as they play selections from their album of Appalachian fiddle tunes, June Apple. They will also perform a wide variety of songs from the traditions of blues and jazz. Tim and Eric have previously played Hoffman Center, though this will be their first time here together in a duo format.
Mandolin virtuoso Tim Connell has developed a unique, modern and global voice for his mandolin, described in a Mandolin Magazine cover story as "fiery and energetic, soulful and evocative." He is regarded as one of the top North American interpreters of Brazilian choro on the mandolin. Tim also leads Portland acoustic bands Rio Con Brio and Stumptown Swing.
Often billed as an acoustic jazz guitarist, Eric Skye occupies a unique niche between jazz, Americana, and blues. He plays in an original style, threaded together with a healthy respect for the groove, and a love of unadulterated acoustic tone. Skye's most recent solo release, A Different Kind Of Blue, is a unique solo guitar re-imagining of Miles Davis' Kind Of Blue. Eric was honored five years ago with a signature model guitar from the Santa Cruz Guitar Company that has gone on to be one of that company's best sellers.