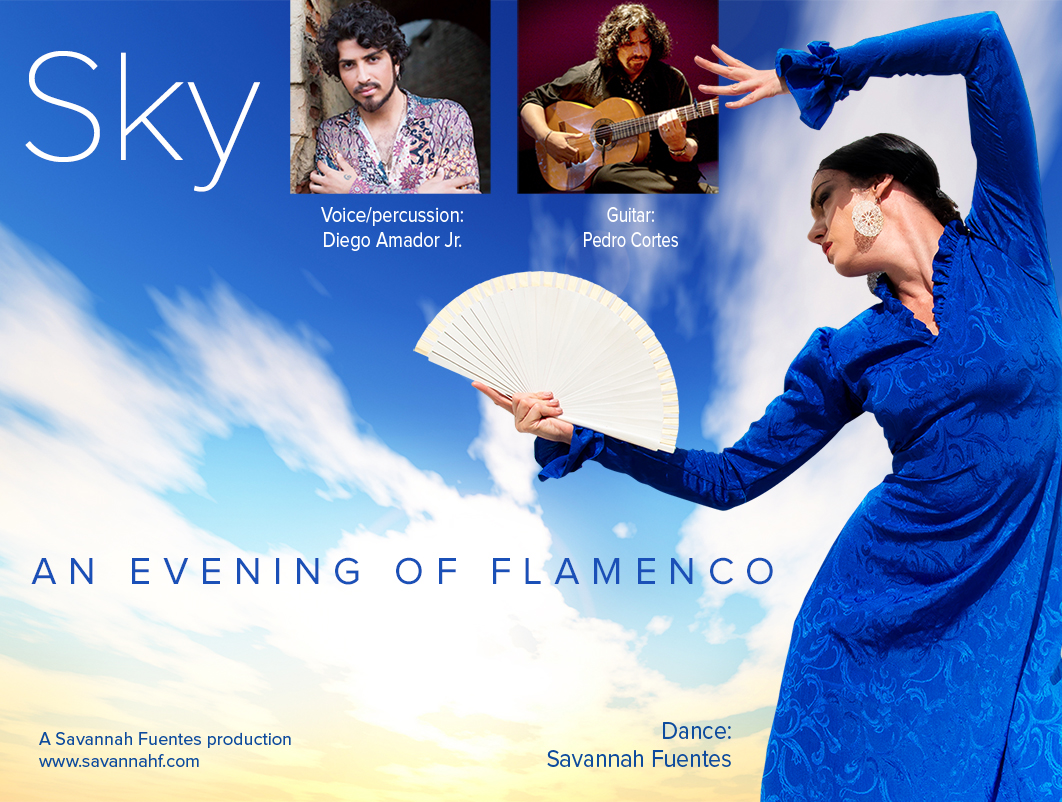 Sky, an evening of Flamenco
Savannah Fuentes
                                             Sky, an evening Flamenco November 10th at the Pine Grove Community Center, 7:30 p. m.                                         .
Seattle-based Flamenco dancer, Savannah Fuentes, brings her latest her show, Sky, an evening of Flamenco, to the Pine Grove Community Center in Manzanita November 10th. Joining Savannah will be singer/percussionist, direct from Spain, Diego Amador jr. and guitarist Pedro Cortes. Sky will also be presented in Astoria, Newport, and Coos Bay. The all-ages events are part of a 30-date west coast tour.
Pine Grove Community Center
225 Laneda Avenue
November 10, 7:30 p. m.

general admission $23,  VIP reserved seating $35, student $15, Child $9
Diego Amador Jr.
From Seville, he was born into flamenco royalty. His father is the celebrated flamenco pianist Diego Amador and his uncles are Rafael and Raimundo Amador (Pata Negra). From a very young age he began performing and touring with some of Spain's top flamenco artists, including Remedios Amaya, La Susi, Lole Montoya, Farruquito and Joaquín Cortés. Known mainly as a percussionist, he also sings, plays guitar and piano and recently launched a solo project as a singer/songwriter, with the track "Y me siento tan bien".

"Real flamenco. straight up and stunning"
Regina Hackett, The Seattle P.I.
Savannah Fuentes, born in Seattle to parents of Puerto Rican and Irish ancestry, is one of the only touring artists in the Pacific Northwest region with strong links to Flamenco culture. She studies both baile (flamenco dance) and cante (flamenco singing) and has toured throughout the states of Washington, Oregon, California, Nevada, Utah, Montana, Idaho, Colorado, and  Arizona. She has independently produced over 300 performances and workshops featuring internationally recognized Spanish Flamenco Artists such as Jose Anillo, Saray Munoz, Jesus Montoya, and Juanarito. She has studied with artists such as Guadiana, Joaquin Grilo, Eva Yerbabuena, El Farru, and Isabel Bayon. She attributes her formation as an artist to her most significant mentor, Maestra Sara de Luis. She continues to evolve as an innovator and performance artist.  
Pedro Cortes, Comes from a family of Spanish Gypsy guitarists and began his studies with his father and the esteemed Flamenco guitarist Sabicas. Having toured professionally since the age of 17, he is gaining international recognition as a soloist and composer. He has premiered his work En la oscuridad de las minas at the Teatro Albeniz in Madrid, he had works premiered by the Carlota Santana Spanish Dance Company at the Joyce Theater in New York. He has two books on Flamenco, El Dron del Faraon and Cruzando el Charco, published by the American Institute of Guitar. Mr. Cortes, was commissioned by the Cohen Brothers to compose music for the film Paris Je TAime .He also wrote music for a childrens program on H B O called Fairy tale for Every Child. He has toured with Jose Greco and Maria Benitez, La Conja and has performed with such artists as Farrucita, La Tati, Merche Esmeralda, Manolete and the late Lola Flores. He has been guest artist with the St. Louis Opera and the New York Grand Opera, and has been commissioned by and performed as Musical Director with the Guthrie Theater In Garcia Lorcas BODAS DE SANGRE. Mr. Cortes is artistic director of his own Flamenco group, and also Musical Director of Palo Seco. Cortes is a third generation Flamenco guitarists and uses the experience passed down to him by his family to maintain the purity of Flamenco while creating new compositions.