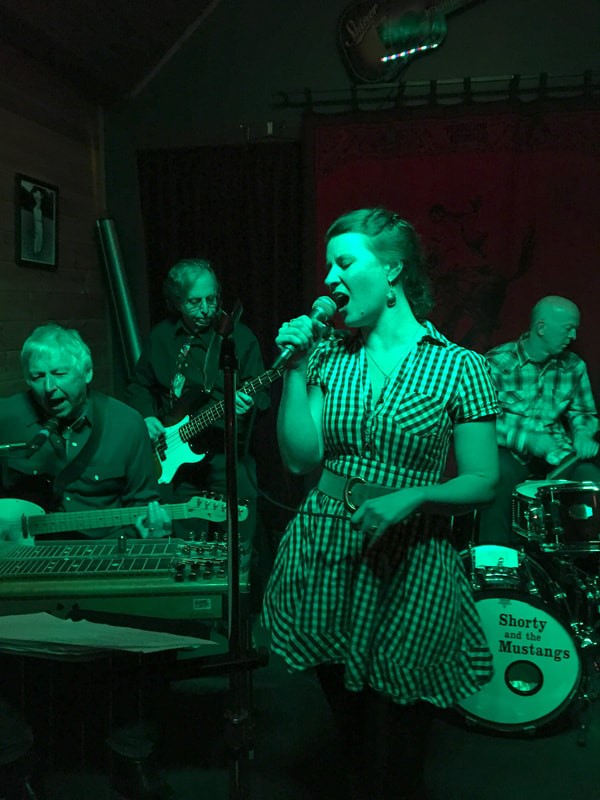 Shorty and the Mustangs will bring their blend of Real Western Swing, Honky Tonk, and Roots Country Music to the Hoffman Center for the Arts in Manzanita Saturday, Oct. 12 at 7 p.m. Admission will be $10.
Lara Carlisle's heart felt singing can get folks out on the dance floor with a Patsy Cline torch song or a Gram Parsons rocker. Ken Woodside and Phil Hornik, on drums and bass, lay down a strong dance beat while Mike Moore on guitar, and Mitch 'Big Tex' Gilbert on steel guitar put in the twang and tears. Marilee Hord sings beautiful duets with Lara and plays the heck out of the fiddle.
Shorty & the Mustangs was formed in Spring of 1996. Big Tex called some of his musician friends to see if they wanted to try something new. Having grown up in Texas (something must have gotten in his blood when he was a youngster), western swing music was calling him home. So they dug out some old Bob Wills and Ernest Tubb records and gave it a shot. Well, 23 years later they're having so much fun they're still at it. Other folks are liking it, too. The group plays bars and honky tonks regularly around Portland, and sometimes local farmers markets and festivals.
Shorty & the Mustangs' first two CDs – "First Go' Round" and "Almost Live at Duff's Garage" have sold out and are now collector's items. The band released their third CD – "Stumptown Swing!" — in January 2014, with all original music.