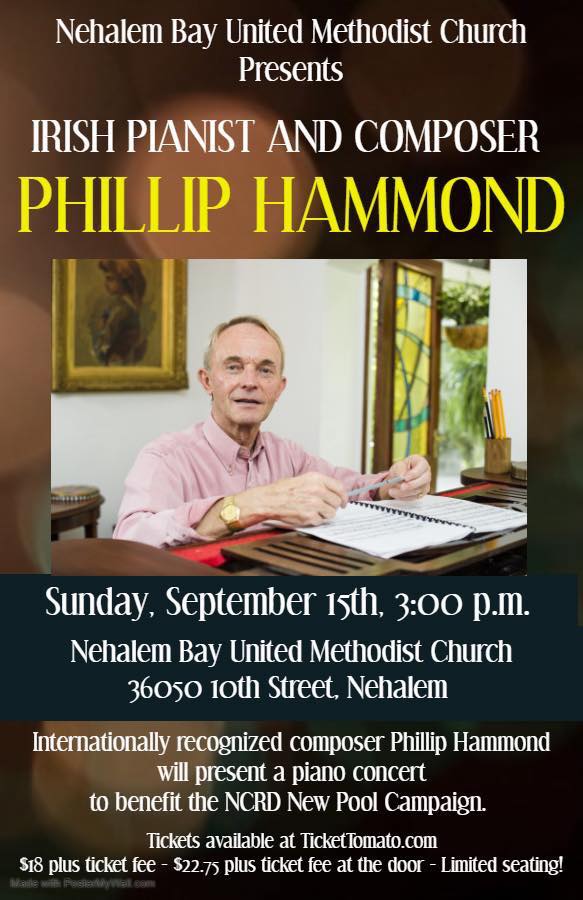 Irish Pianist & Composer Phillip Hammond
rish Composer & Pianist Philip Hammond
September 15, 2019 | 3:00 pm
Tickets: online here, at NCRD Welcome Center (Mon-Fri, 8:00 am – 5:30 pm) or at the door
Please note: This performance will be held at the Nehalem Bay United Methodist Church, 36050 10th Street, Nehalem.
Dr. Phillip Hammond benefit piano concert in support of the NCRD new pool campaign. Dr. Philip Hammond has pursued an encompassing musical career in teaching, performing, writing and composition. He retired as a Director of the Arts Council of Northern Ireland in 2009 after twenty years which included two years designing, programming and managing an international arts festival in Washington DC complementing Northern Ireland's presence at the Smithsonian Folklife Festival in 2007.
In retirement, he has been engaged as a presenter and correspondent by the BBC and RTÉ (Ireland's leading broadcasting company) and he writes for the Belfast Telegraph and various websites. He is well known in Ireland as a composer and a respected arts journalist. His large choral work "Requiem for the Lost Souls of the Titanic" was performed and broadcast worldwide in April 2012 and a new piano concerto commissioned by BBC Radio 3 was written for Irish pianist Michael McHale and premiered by the Ulster Orchestra in January 2015. It was given a repeat performance by the National Symphony Orchestra of Ireland in Dublin three weeks later in a concert totally devoted to his music.
Naxos Records under its Grand Piano Label has released a second CD of his piano music, entitled Miniatures and Modulations, once again featuring Michael McHale as the pianist . McHale recorded the piano concerto for the RTÉ Lyric FM label with the young Belfast-born conductor Courtney Lewis who currently conducts the Jacksonville Symphony Orchestra in Florida. The CD was launched in Dublin in September 2016. He has been commissioned to write for many leading individual musicians such as Sir James Galway, Sarah Walker, Suzanne Murphy, Tasmin Little, Barry Douglas, Michael McHale, Nikolai Demidenko and Dame Ann Murray.