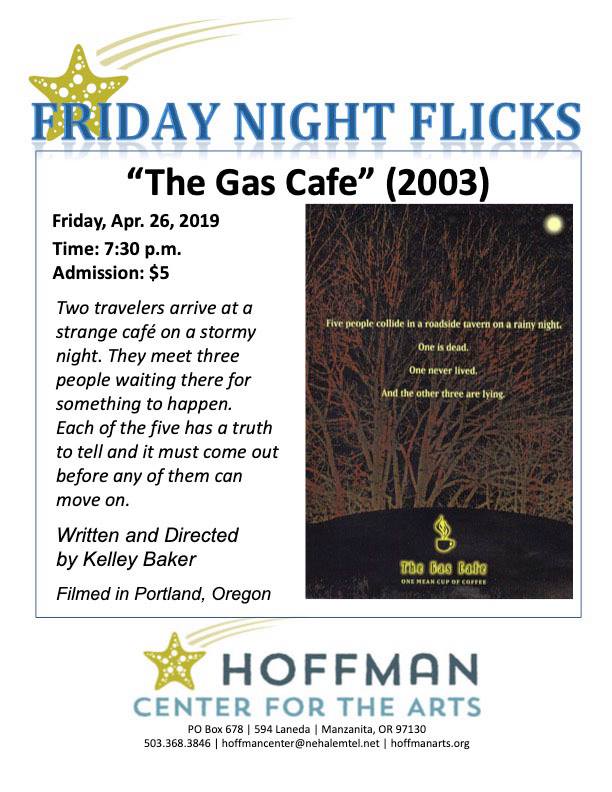 Friday Night Flicks: "The Gas Cafe"
Hoffman Film Series to Screen "The Gas Café"
The Hoffman Center for the Arts in Manzanita will screen the 2003 mystery film "The Gas Cafe," directed by Oregon independent filmmaker Kelley Baker, Friday, Apr. 26, at 7:30 p.m. Admission will be $5.
Written by Baker and Bruce Lacey, the dark drama tells the story of two travelers who stumble into a strange café after their car ends up in a ditch. Located somewhere between Heaven and Hell three people await them. All five have a truth to tell and it must come out before any of them can move on with their personal journeys.
Shot in Portland on digital video, the film stars Don Alder, Francisco Diego Garcia, Tom Lasswell, Abigail Ray, and William Earl Ray.
An Oregon native, director Baker graduated from the University of Southern California film school. The Hoffman Center screened his features "Birddog" and "Kicking Bird," plus a selection of shorts last year.
In addition to making his own films, Baker served as sound designer on six of Gus Van Sant's feature films, including "My Own Private Idaho," "Good Will Hunting," and "Finding Forrester."