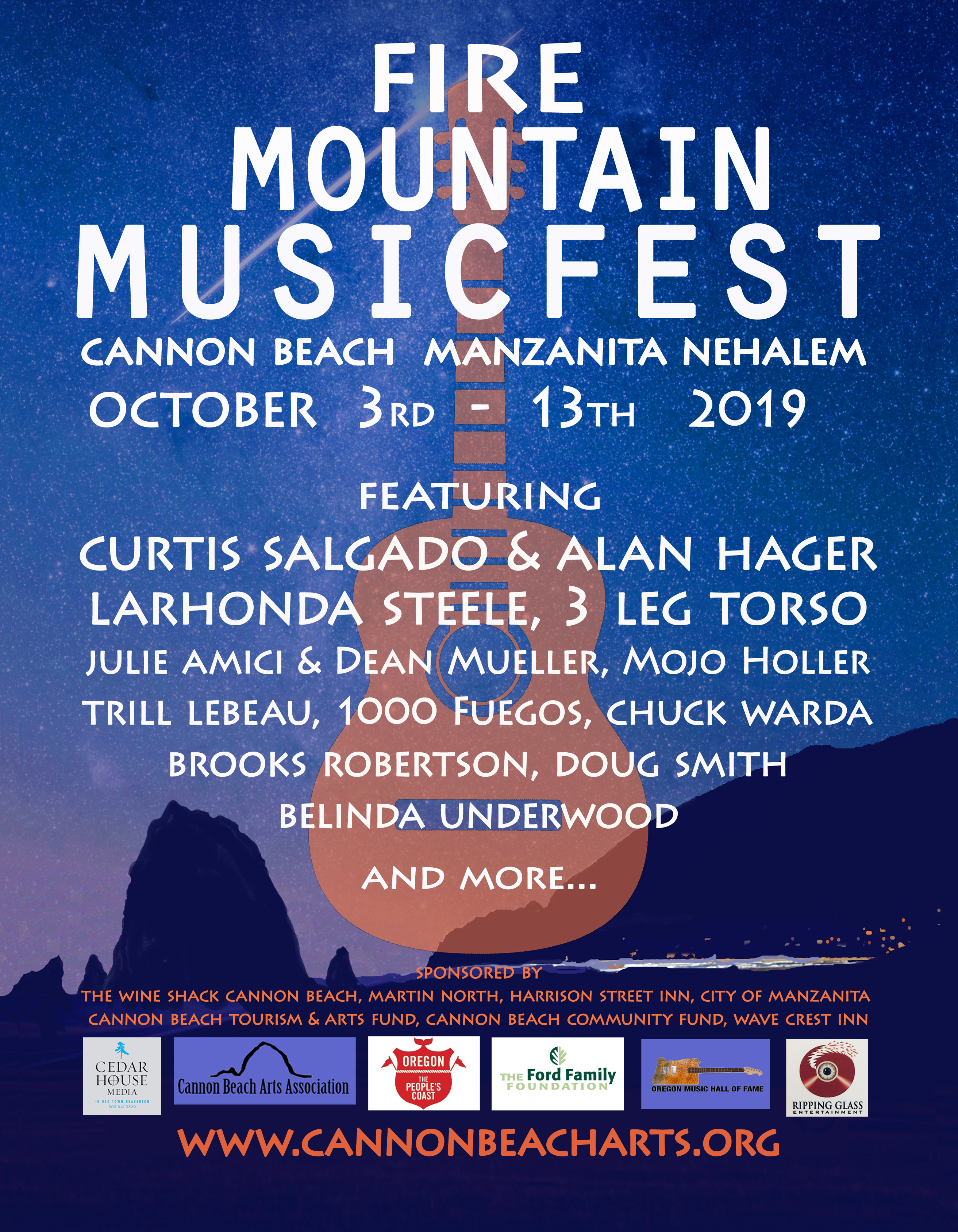 Fire Mountain Music Festival, October 3rd-13th 2019
Portland's Top Blues Talent to Headline the Fire Mountain Music Festival
For ten days in October the first annual Fire Mountain Music Festival will offer a stunning display of fine NW musical acts in venues from Cannon Beach, Manzanita and Nehalem.  
The 2019 Fire Mountain Music Festival, a collaboration between the Cannon Beach Arts Association (CBAA) and Fly Me To The Moon, runs from October 3 to October 13, 2019. Proceeds from the festival will benefit the two non-profit organizations.
Cara Mico, program director at Cannon Beach Arts Association, is committed to bringing events like this to the coast based on her belief that "music and art are integral to humanity and essential for wellness."
"By fostering creative events," said Mico, "we can support our community and those that call the Oregon coast home." 
The Fire Mountain Music Festival begins in Cannon Beach on October 3 at multiple venues including The Chamber of Commerce, The Wine Shack, Cannon Beach Gallery, and Cannon Beach Yoga Studio. 
The Manzanita and Nehalem events run from Oct 9-13. These events  include several guitar workshops in addition to performances at the NCRD Performing Arts Center, Wild Manzanita, and St. Catherine's Church.
Dean Mueller, longtime musician, producer, and the director of Fly Me To The Moon is  responsible for the southern portion of the festival in Manzanita and Nehalem sites. 
"As a performer and producer, it is exciting to help bring this festival to the North Coast," said Mueller.  "The collaboration between Fly Me To The Moon and CBAA has allowed us to bring some of Oregon's top-tier artists to the coast, and to provide support for these two great organizations."
MUSIC & WORKSHOPS
Featured artists include Curtis Salgado, 3 Leg Torso, Julie Amici and Dean Mueller, LaRhonda Steele, Brooks Robertson, Grammy winner Doug Smith, and many more.  There will also be a series of guitar workshops taught by Brooks Robertson, award-winning fingerstyle guitarist and Berklee College of Music graduate and Grammy award winner Doug Smith.
TICKETS & PACKAGES
Ticket prices are listed on the website, and some shows are free.  There are several packages available for the Manzanita and Nehalem events. For a complete list of times and ticket info, go to https://www.cannonbeacharts.org/music-festival.
THE ORGANIZATIONS 
Fly Me To the Moon, co-founded by Dean Mueller, operates in affiliation with the Oregon Music Hall of Fame (OMHOF), a 501 (c)(3) nonprofit. The program brings professional, high quality, affordable live music events to retirement, assisted living, and memory care facilities, as well as community organizations offering programs to seniors.
The Cannon Beach Arts Association and Cannon Beach Gallery supports a diversity of arts and artists in and around Cannon Beach. The nonprofit has hosted a gallery since 1986 and offers workshops, events, and art camp for people of all ages and backgrounds. Proceeds from the music festival support our arts education program which includes Oregon Art Day in Clatsop County and summer art camp. CBAA is a 501(c)3 nonprofit with a board of nine, four part time staff, 35 volunteers, and over two hundred local artists. 
EVENT DETAILS
Fire Mountain Music Festival
October 3 – October 13, 2019
Locations: Venues from Cannon Beach to Manzanita area.
PRICE: Various;  Individual, package, some free events
Tickets: https://www.cannonbeacharts.org/music-festival