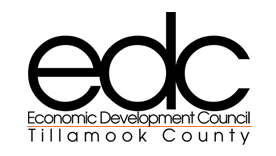 ECONOMIC DEVELOPMENT COUNCIL OF TILLAMOOK COUNTY BOARD MEETING
ECONOMIC DEVELOPMENT COUNCIL OF TILLAMOOK COUNTY
Every third Tuesday from 11:30-1:30 the EDC Board meeting is held at TBCC central campus in room(s) 214 and/or 215.
The Board will hold a meeting open to the public every third Tuesday of the month at Tillamook Bay Community College Central Campus, 4301 Third Street – Rm 215, Tillamook, Oregon. A copy of the agenda  for the meeting will be available by the second Tuesday of the month at the EDCTC office located at 4506 Third Street in Tillamook or on https://edctc.com/
The Board meetings are held in accordance with open meeting laws and accessibility requirements. If a person with a disability needs assistance in order to attend or participate in a meeting, please notify EDCTC at (503) 842-8222 x 1420 at least 48 hours in advance.