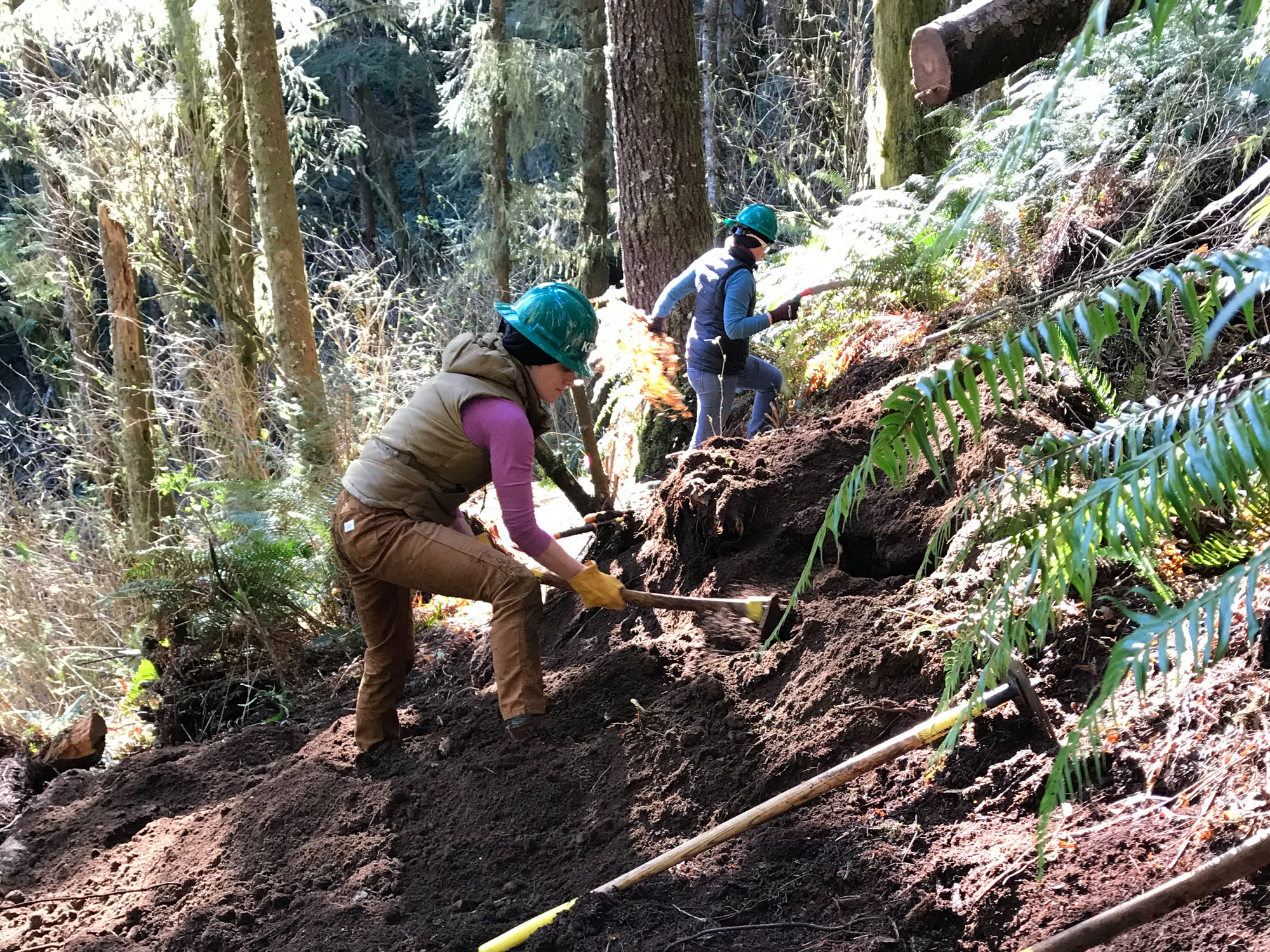 Cascade Head Rainforest Trail Party
Come join Trailkeepers of Oregon as we begin work on the closed section of the Oregon Coast Trail at Cascade Head! A 2.3 mile section of trail at Cascade Head (part of the Oregon Coast Trail) has been closed for 11 years following major storm damage. Efforts to reopen this section are ramping up and TKO is happy to help! With your help we'll be doing tread restoration, log removal, drainage repair and more as we help the Forest Service get this trail back in shape. Registration is required and can be done at the link provided.
Project description:  Although much of the work will involve using hand tools to define and improve the trail tread surface, the project will involve a variety of types of work over time. There will be some technical work such as crosscut sawing, moving heavy logs with rope pullers, and possibly installing curb logs or curb walls for support of steep slopes. There will be a lot of tread repair, as the uphill edges of the trail have eroded over time and the trail corridor needs to be re-defined. There is enough variety to keep everyone interested! 
Camping information:  Camping will be available at a closed, gated FS camground close to the work site.  Directions and more information will be provided to registered volunteers.
What to expect: Plan to hike about a mile to the work area and work for 4-6 hours using hand digging tools. This distance will increase as we move further down the trail. We prioritize safety and fun over quantity of work accomplished and encourage people to try different things and work at a comfortable pace. No experience is necessary — you'll be working with experienced crew leaders who will teach you all you need to know. We will work in moderate rain, but will cancel or leave if weather becomes unsafe or impedes our ability to do quality work.
What to bring:
• Plenty of water
• Snacks
• Lunch
What to wear:
Boots (Please wear something sturdy that will protect your toes from sharp tools. Tennis shoes are not recommended.)
• Work gloves (loaner gloves available)
• Long sleeved shirts and pants.
• Rain gear as appropriate for the weather
• TKO will supply hard hats and safety glasses
Directions: Will be provided to registrants 48 hours prior to the event.
HIKE DISTANCE: 1-1.5 MILES
ELEVATION GAIN: 400′
HIKE DIFFICULTY: EASY-MODERATE
WORK DIFFICULTY: MODERATE
WORK DESCRIPTION: TRAIL RESTORATION
KEYWORDS: TREAD, RESTORATION