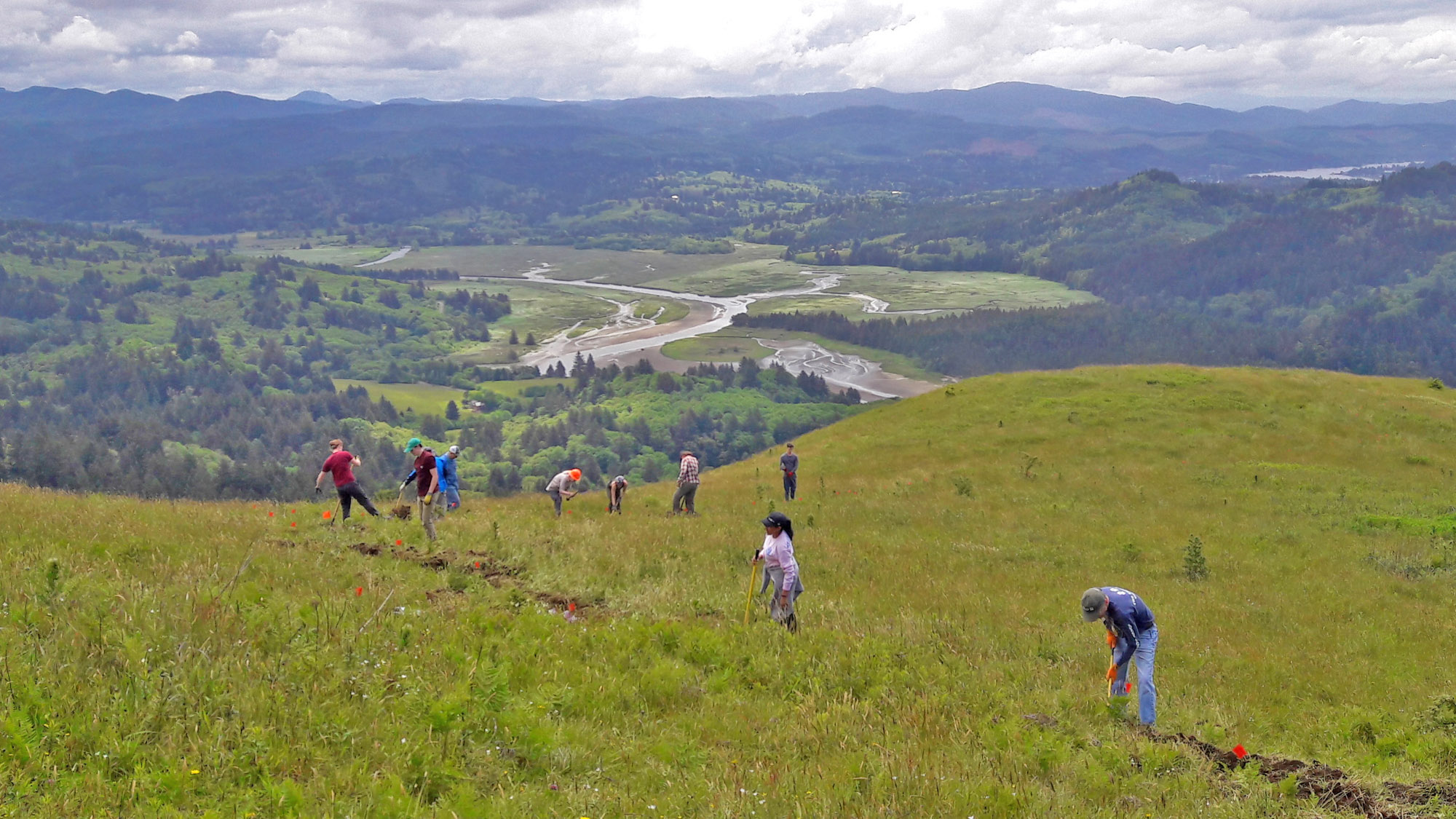 Cascade Head Meadow Trail Party
This is a two day work party with optional camping.  You can sign up for either or both days.  This is the signup for Saturday August 17.  Look at the TKO event calendar for the Sunday event to signup for both https://www.trailkeepersoforegon.org/events/
Camping is at the Forest Service Research Site in Otis Oregon.  Nature Conservancy will provide two breakfasts, dinner Saturday, and lunch fixings.
Overview:  Cascade Head is a coastal promontory overlooking the Pacific Ocean that is owned and managed by the Nature Conservancy. Heavy use, steep slopes, and coastal rain has eroded parts of this trail.  This is the third work party to reroute the trail to a more sustainable location.
Project description: We will be joining the Nature Conservancy to build a new section of the Meadow Trail to move the trail to a better location. Help us to build a trail on the face of Cascade Head (continuing previous work). We will provide instruction and tools.
What to expect: We will be working in a relatively steep location facing the ocean. Three to Four mile roundtrip hike with some elevation gain and will require volunteers to hike off trail and stand on uneven ground while working. It will include digging on steep hillsides.
What to bring: Bring your lunch (unless camping with group), snacks and plenty of water. It is an open meadow so sun protection if needed.
What to wear:
Boots (tennis shoes are not allowed)
Sturdy work gloves
Long sleeved shirts and long pants required
Rain gear (or sun gear) as appropriate for the weather
Eye protection is recommended (eye glasses, safety glasses, etc.)
TKO will supply hard hats and safety glasses if needed
We will meet at the road to the North trail head: U.S. 101 and FS road 1861, 45°03'56.6″N 123°56'54.5″W  If you want to camp we will send directions to that location close to the work date.
CREW LEADER: CURTIS SMITH AND DEBBIE PICKERING (NATURE CONSERVANCY)
HIKE DISTANCE: 3 MILES
ELEVATION GAIN: 200′
HIKE DIFFICULTY: EASY
WORK DIFFICULTY: MODERATE
WORK DESCRIPTION: BUILD SECTION OF NEW TRAIL IN MEADOW
KEYWORDS: NEW TRAIL, MEADOW, NATURE CONSERVANCY