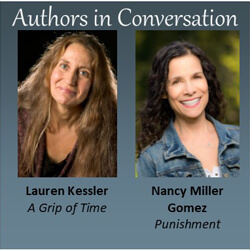 Manzanita Writers' Series Presents
Authors in Conversation:
Lauren Kessler and Nancy Miller Gomez
7pm,  Saturday May 18, 2019
Admission $7
Finding Humanity Behind Bars: Authors Lauren Kessler and Nancy Miller Gomez discuss the transformative power of words for prison inmates
The US has the highest rate of incarceration in the world.  Listen to two authors who spent time with some of the inmates–Kessler with "Lifers" in a maximum security prison and Gomez with men and women in jails and prisons.  They'll talk about the ways writing can heal, redeem, and give meaning to life in prison and afterwards, and also how the experience has made a difference in their own lives.
Lauren Kessler will read from A Grip of Time: When Prison is Your Life, based on three years of running writing workshops inside the Oregon State Penitentiary.
Lauren Kessler is an award-winning author and (semi) fearless immersion reporter who combines lively narrative with deep research to explore everything from the gritty world of a maximum-security prison to the grueling world of professional ballet; from the wild, wild west of the anti-aging movement to the hidden world of Alzheimer's sufferers. She is the author of ten works of narrative nonfiction.
Kessler says her mission was to "learn about this hidden world. So that we all could. I could teach these men to craft stories. They could educate me about prison life. I needed to know—I thought we all needed to know—who these people were that we put away, far away from us, in a country that puts more people in prison than any other country on earth."
Between poignant moments tossed up with the drudgeries, frustrations, and clever dodges of prison life, Kessler gives a pulsing heart and a human face to this portion of the population all too often forgotten outside the walls. – Kirkus Reviews
Nancy Miller Gomez will read from her book of poems and essays titled Punishment, based on working with inmates at Salinas Valley State Prison and in county jails.
"Thank you, Nancy Miller Gomez, for taking us behind bars, for sharing searing stories relayed beyond guards—Lorenzo, we will never forget you—thank you also, Gomez, for the essays telling how saving lives saved yours. 'Growing Apples' in Cell C is reason for all of us to go on. How do we get this book to every appointed official? How do we get this book to everyone?"
—Grace Cavalieri, in Washington Independent Review of Books
Gomez has a Masters in Fine Arts in Writing from Pacific University. Her work has appeared in River Styx, Rattle, The Bellingham Review, Nimrod and elsewhere. A failed waitress, she has also worked as a stable hand, an attorney, and a television producer. She currently volunteers as the Director of the Santa Cruz Poetry Project, an organization that provides poetry and writing workshops to incarcerated men and women.
There will be no Open Mic at the evening event to allow for the reading and Q&A with two author